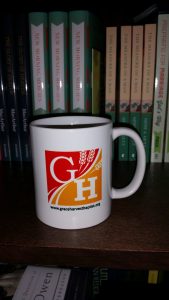 Pastors Pen
"Count the Cost"
 And he said to all, "If anyone would come after me, let him deny himself and take up his cross daily and follow me." Luke 9:23
What will it cost you to be a follower of Christ? We live in a day when we are told to trust in Jesus He has a wonderful plan for your life. We are told that Jesus wants you to be happy. The wife of Joel Olsten told their congregation the following: "God takes pleasure when we are happy. That's what brings Him the greatest joy"
Really is that what Jesus told those who wanted to follow Him. This is what Jesus said, "Then they will deliver you up to tribulation and put you to death, and you will be hated by all nations for my name's sake"(Matthew 24:9).
The Word of Faith Movement (easy believism, prosperity gospel) is a false gospel that corrupts and distorts the true Gospel of Jesus Christ. Word faith articles carry titles like, "How to Write Your Own Ticket with God," "Godliness Is Profitable," "The Laws of Prosperity," "God's Creative Power Will Work for You," "Releasing the Ability of God Through Prayer," "God's Formula for Success and Prosperity," "God's Master Key to Prosperity," and "Living in Divine Prosperity," and so it goes.
John Macarthur writes, "In word faith religion the believer uses God, whereas the truth of biblical Christianity is: God uses the believer.  Word faith theology sees the Holy Spirit as a power to be put to use for whatever the believer wants.  The Bible teaches, however, that the Holy Spirit is a person who enables the believer to do whatever God wants.  It is absolutely the opposite of Scripture.  Many word faith teachers claim that Jesus was born again so that we might become little gods.  Scripture, however, teaches that Jesus is God and it is we who must be born again."
Some of you may be thinking that you don't have to worry about the Word of Faith Movement. Really? Have you been put to sleep by the things of his world? Are you like the rich young man who asked Jesus how he could inherit eternal life (Matthew 10:17-27? After he told Jesus he obeyed all the commandments (which is impossible) Jesus responded,  "And Jesus, looking at him, loved him, and said to him, "You lack one thing: go, sell all that you have and give to the poor, and you will have treasure in heaven; and come, follow me."  Disheartened by the saying, he went away sorrowful, for he had great possessions (Matthew10: 20-22).
John Piper tweeted out this week, "More people leave Christ, the church, and ministry out of love for the world than anything else". Wake up before it is too late. Head the call of Christ in Luke 9:23. There are three imperatives in the passage.
First, is to deny oneself. This means that put God and others before ourselves. Be that Romans 12 and 1Corthinas 13 Christian.
Second, is to take. That is to take up your cross. This is not just talking about difficult situations in your life but are you willing even to give up your life for Christ.
Third, is to follow. Following Jesus is easy when life runs smoothly; our true commitment to Him is revealed during trials. Jesus assured us that trials will come to His followers (John 16:33).
Discipleship demands sacrifice and Jesus never hid that cost. In Luke 9:57-62, three people seemed willing to follow Jesus. When Jesus questioned them further, their commitment was half-hearted at best. They failed to count the cost of following Him. None was willing to take up his cross and crucify upon it his own interests. That is why Jesus appears to dissuade them. How different from the typical Gospel presentation! How many people would respond to an altar call that went, "Come follow Jesus, and you may face the loss of friends, family, reputation, career, and possibly even your life"? The number of false converts would likely decrease! Such a call is what Jesus meant when He said, "Take up your cross and follow Me."
If you wonder if you are ready to take up your cross, consider these questions:
• Are you willing to follow Jesus if it means losing some of your closest friends?
• Are you willing to follow Jesus if it means alienation from your family?
• Are you willing to follow Jesus if it means the loss of your reputation?
• Are you willing to follow Jesus if it means losing your job?
• Are you willing to follow Jesus if it means losing your life?
Your shepherd, Pastor Mark