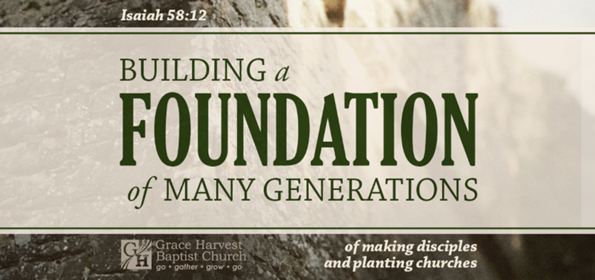 GHBC Foundations Project
Devotional - WEEK OF SEPTEMBER 21, 2014
OUR CHILDREN AND GRANDCHILDREN
Proverbs 17:6  Grandchildren are the crown of the aged, and the glory of children is their fathers. ESV
Susanna Wesley was the 25th child of a pastor.  She was known for her daily prayer for, and her weekly mentoring of her children.  Two of her children, John and Charles, were used by God as thousands came to salvation in Jesus.
Her father laid a spiritual foundation in her life.  In her maturity, she used the sermons of her father as a tool for ministry.
Her intercession and mentoring laid Foundations of Many Generations through the Wesleyan movement.  Her sons John and Charles had an amazing impact, in an era with no television, radio, or telephone.  They lived and ministered during the Great Awakening and which shook Evangelical Europe. Their followers were key people in leading the English movement to abolish slavery.
As he grew older, John Wesley was referred to as the most loved man in all of England.  He and his brother were like a spiritual crown for their pastor grandfather.  They praised their mother who mentored them so well.
What vision do we have for our children and grandchildren?  Do we dare to follow the pattern of prayer and mentoring shown by Joanna Wesley?  Do we dream that God would use our family in building Foundations of Many Generations making disciples and starting churches?
PRAYER:  We read the stories about work that you have done, and we are amazed.  But, somehow, we can't imagine that you would use our families like that.  Change us.  Give us boldness of vision, and boldness of prayer.  Let us pray and dream that our families would participate in build Foundations of Many Generations making disciples and planting churches all around the world.
The Foundations Project Team
GHBC Foundations Project Promo Video- 9/21/14
GHBC FOUNDATIONS PROJECT
FREQUENTLY ASKED QUESTIONS
-Overview-
-Missions capital projects and ministry partners-
-Land and building-
-Money and the Foundations Project-
-Other financial information-
OVERVIEW
What is the Foundations Project?
The Foundations Project is a capital campaign to raise money to retire the building debt of Grace Harvest Baptist Church and help our missions partners with their building needs.
As the Foundations Project Team met and discussed the assignment that God had given, it became clear that God was challenging us to build a "foundation of many generations" in spiritual ways as well as financial ways.
Whose idea was the Foundations Project?
Beginning in April 2014, the church and its elders began seeking God's leadership through fasting and prayer.  When the elders met in early May, they each acknowledged God was leading GHBC to pay off the building debt.  The elders then called on a cross-section of church members to develop and implement the Foundations Project.
What is the goal of the Foundations Project?
$450,000 total to be divided:  $360,000 to the GHBC mortgage, and $90,000 to Missions  (USA and overseas) building.
How long will the Foundations Project last? 
As a matter of obedience to God's grace and leadership, the foundations project will continue until the goal is reached.
Are we reacting to problems or opening up more possibilities?
As GHBC grows, God assigns us more opportunities.  Additional ministries will come, and by eliminating the current debt we will be able to engage them with the required resources.
Will the Foundations Project depend on additional giving from church members?
Yes.  Each church member is encouraged to prayerfully identify how much additional money they can give to the Foundation Project.
How can we pray for God to change us during the Foundations Project? 
God can use our meditation on the theme verse of Isaiah 58:12.  We can build a foundation of many generations by praying that God would call our children and grandchildren to His service overseas and in the USA.  We can ask God to strengthen His foundation in our lives, and spend more time individually in the Bible and in prayer.  We can seek God's assignment to increase our personal activity in being a disciple and making disciples.  We can commit to God's redemptive purpose in our world and get involved in starting churches.  We can welcome God teaching us new lessons on His faithfulness as we give according to His specific assignment to us.
MISSIONS BUILDING PROJECTS AND MINISTRY PARTNERS
Why do we include the Missions building projects as a part of the Foundations Project?
As Pastor Mark and Cathy were seeking God's will about starting GHBC, God gave a burden for missions ministry in Africa.  This assignment has been confirmed by those who participated in the Uganda mission trips.  Pastor Mark mentors Pastor Ben Knotts, a local church planter and currently there are two families in our church are interested in church planting.  Building in partnership with these that God has sent to us is a natural part of building a foundation of many generations, locally and globally.
What are Missions building projects?
We have ministry partners in the USA and overseas.  As God leads them to buy land and build, we will join in what God does.
What missions activities are we doing with our Missions partners?
-Radio Ministry and Benevolent Ministry partnership with Pastor Abraham Okurut of New Life Baptist Church of Soroti, Uganda.
-Prayer and encouragement partnership with Robert Tukei of Tororo, Uganda.
-Pastor Mark has a mentoring relationship with church-planting Pastor Ben Knotts of the Disciple Company of Short Pump, VA and many of us regularly pray for him.
-Two families in our church seek God's will concerning church planting.
What is one example of a Missions Building Project need of our Missions ministry partners?
In Uganda, an average family might see $1 of cash income each day.  If a bag of cement is $15, imagine how long it would take Uganda families to build a church that requires 450 bags of cement?  God calls us to help them through the Foundations Project.
Are there other Missions Building Projects that we are considering?
Yes.  As we are related to local church planters, either through the SBCV or those  who come from our own church, we want to bless them by giving to help for their first building just as help was initially given to GHBC
When will the Missions ministry partners get their funds?
Missions ministry partners and GHBC elders will work in careful stewardship and planning to build or purchase land for building as God directs.  We can begin one Missions building project in Uganda as soon as funds are available.
LAND AND BUILDING
How much land does the church have?
The church owns 14 acres of land in the Redfield South subdivision.  Zoning allows construction of church buildings and the operation of a church.
Why do we have this much land?
The church wants to be a good neighbor in the community.  We have enough land so that there is a buffer zone between the church and the neighbors.  We seek to maintain the exterior and landscaping to be compatible with the community.
Have we paid for the land?
The original land purchase was paid with a series of interest-free payments to the developer.  Later land purchases are also fully paid.
What is the road in the land?
The gravel road is a deeded right-of-way that connects our neighbors with the paved road.  The church periodically adds gravel to this road according to our needs.
What else is on the land?
There is an additional well and septic system on the land – across the gravel road from the church building.
Do we plan to buy more land?
The church has no plans to seek to purchase more land.  The most recent purchases were made when plot owners offered the next-door plots to the church at a discounted price.
What was the plan for our first building?
When we built, we planned for the existing ministry of home groups providing fellowship, prayer and Bible teaching.  We planned room for growth in the worship and church wide events of our church.  The Sunday School ministry developed as we began to use the building.  We are thrilled at how the church has grown and uses the building.
Are we being good stewards of the use of our building?
Our building is a valuable and carefully used resource for ministry.  We use every space in the building on Sunday Mornings.  Monday through Friday the building is used by staff members during regular office hours.  Members use the building for small group discipleship and mentoring during the week.  In addition, the building is frequently used on Monday, Tuesday, Wednesday and Thursday evenings.  On some Friday evenings and Saturdays there are Bible study, training, outreach and fellowship events.
MONEY AND THE FOUNDATIONS PROJECT
How much does the church owe on the building?
Since we make regular payments on the building, that exact amount reduces each month.
Dan Hammond can provide updated information about all financial matters of the church.
Where will the money go?
All of the money [$450,000] given for the Foundations Project will go to the building [capital] accounts.  80% [$360,000] will be used to pay off the GHBC building debt.  20% [90,000] will fund Missions [global and local] building projects.  Funds will be proportionally divided as received.
Should I give to the Foundations Project instead of part or all of my giving to the regular offering?
No.  If we give to the Foundations Project while taking away from our regular offering, it will minimize the current ministries of the church.
If I give more money to the regular offering, will that help the Foundations Project?
Yes.  Since the elders have identified that the Foundations Project is the priority for the church, income beyond the ongoing operating needs of the church may also be applied to the Foundations Project.
How is the church paying for the building now?  Will that continue?
The church makes monthly mortgage payments as a part of the budget.  Those payments pay down the building [capital] debt and also pay the monthly interest due.  Those payments will continue throughout the Foundations Project.  So, the Foundations Project will not raise all of the money due, because the church will continue to pay the regular mortgage payment each month.
When can I make a gift to the Foundations Project? 
Many people will choose to give weekly or monthly depending on the frequency of their salaries.  Others may choose to give periodically, according to their business or investment profits.  A gift may be given to the Foundations Project at any time.
How are the Foundations Project gifts identified? 
On the memo line of your check, you may write "Foundations Project," "Foundations,""Building"  or "Capital."
What if I want to give to Missions Building only, or just to GHBC building debt? 
We encourage members to give freely to the Foundations Project.  However, each of us must do as God leads.  Please help us during this project by clearly identifying your special gift.  Any contribution that specifically states "Missions building only" or "GHBC building only" will be carefully and accurately processed according to the instructions of the donor.
What other designated contributions will probably be made?
We will continue to receive designated contributions for missions offerings, projects, and local benevolence, as well as contributions for meals and study books.
OTHER FINANCIAL QUESTIONS
Is the church stable financially?
Yes.  Since the beginning of the church, we have always been careful stewards.  We  are obedient in our giving and serving, and God provides what we need for the ministries that He calls us to fulfill.
Why does the church need this extra money? 
We enter the Foundations Project because God led the elders call the church to pay off the building debt.
What debt does the church have?
The church only has the building debt.  The church does not have any other long- term or short-term debt.
What type of loan does the church have?
The church has a 15 year loan at a competitive interest rate.  The terms of the loan are favorable to the church.
What expenses will be deducted from the Foundations Project income?
No expenses will be deducted from the Foundations Project income.  GHBC will pay for all of the administrative expenses of the Foundations Project through the regular operating budget.
How will the interest on the existing loan be paid?
No Foundations Project income will be used to pay interest on the loan.  The monthly interest payments will continue to be paid through the regular operating budget.  When you give to the Foundations Project, everything that you give will go to help pay off the debt of our building and to help purchase land and erect buildings all around the world.