Elder: Brian Hayes
Leader: Victoria Pitrelli
Mission Statement:  We develop, equip and energize the Body of Grace Harvest Baptist Church into a life-long journey of Evangelism. Beginning with sharing the Gospel of Jesus Christ on our own and with our brothers and sisters in Christ  through the Outreach Ministries of the church. Committing our lives to the Great Commission set forth by our Lord in Matthew 28:19-20.
Matthew 28:19-20 "Go therefore and make disciples of all nations, baptizing them in the name of the Father and of the Son and of the Holy Spirit, teaching them to observe all that I have commanded you."
The Daily Planet's Medical Respite For The Homeless
Click on the video to meet Louis and hear his testimony and how much this ministry has meant to him.
(Direct contact not permitted due to Covid-19, but food can be provided)
Lead: Victoria and Ted Pitrelli
A home-cooked meal is prepared and delivered to homeless men and women healing from surgery and illness. Help is needed every 3rd Saturday of every month.  Under normal circumstances, the Gospel message, Bibles, eyeglasses, prayer, and fellowship would also be offered to the residents. Your kindness and compassion can reflect God's love and help nourish their bodies physically and spiritually.
Lead: Kevin and Janet Lanham
(Direct contact not permitted due to Covid-19)
Worship music and song, a short sermon, prayer, and snacks are offered to the residents and their families.
This ministry brings love, kindness, joy, hope and the comfort of worship music and God's word to the elderly who are often lonely and isolated.
Amelia New Resident Outreach
Lead: Rich and Kristi Hamilton

Welcome to the Neighborhood letters with an invitation to visit Grace Harvest are mailed each month.  Under normal circumstances, we would love our neighbors with a home-visit, a welcome basket, and a personal invitation to visit church.
Pregnancy Support Center of Southside Virginia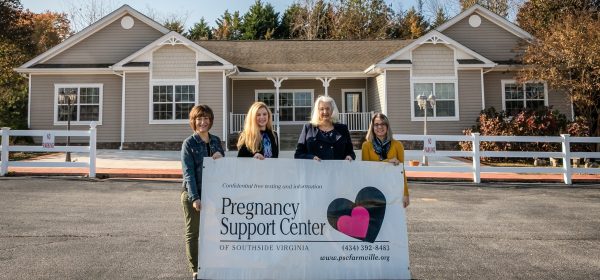 Lead: Jennifer Williamson
Grace Harvest provides support through donations, baby bottle coin drives, Walk-for Life participation, and prayers.  Volunteers for their operations and both male and female Client Advocates are needed.  The PSC provides life-affirming, Christian support to women, men and their families facing pregnancy, sexual decisions, and post-abortion trauma.