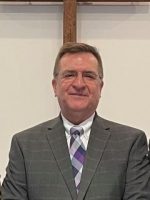 Pastor Mark Wells is the Founding and Senior Pastor here at Grace Harvest Baptist Church. He and his wife, Cathy, have five adult children: Crystal, Sean, Jacob, Joshua, and Jesse. Pastor Mark moved to Virginia in 1971 where he met and married Cathy, his high school sweet heart, in 1977. He then joined the Richmond Police Department in 1978 and later joined the Chesterfield County police in 1980. Pastor Mark felt Gods calling to become a pastor in 2003. He was ordained as a Southern Baptist pastor in 2005.
In 2007, he retired from law enforcement after 29 years of service. Pastor Mark earned his BS in Administration of Justice at Bluefield College, and later attended Liberty Theological Seminary where he received his Masters of Arts Religion with an emphasis in Pastoral Counseling. He and his wife were sent out to plant Grace Harvest Baptist Church in January of 2006. Pastor Mark has a verse, chapter, and book of the Bible that drives his life and ministry.
His verse is 1 Corinthians 9:16 (For if I preach the gospel that gives me no ground for boasting. For necessity is laid upon me. Woe to me if I do not preach the gospel!), because it is his passion, conviction, and caution. His chapters are 1 Corinthians 13 and Romans 12 that he strives to live by, and the Gospel of John is essential to his ministry because it was written so that we may believe.
Pastor Mark has seen God work through the obedience of God's people over the past 13 years here at Grace Harvest Baptist Church and is looking forward to see what God has in store in the years to come.